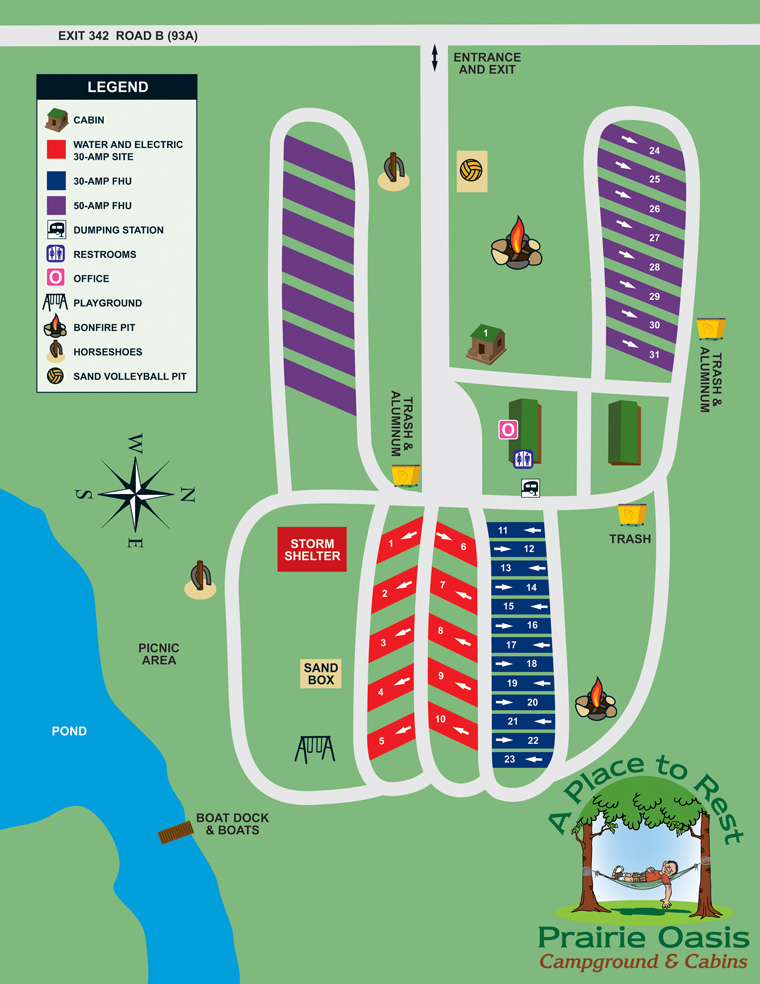 Click here for a larger version of the site map in Adobe PDF format.
Prairie Oasis RV Park & Cabin Policies:
1. We are a pet friendly family campground. Pets must be leashed and accompanied at all times unless closed inside the RV. PLEASE pick up their droppings! There is a $10.00 fee for not cleaning up after your pet. No pets in the facility buildings except service animals.
2. Check-in time is 1:00 PM except on Fridays and Saturdays at 12:00 PM. Check-out is 11:00 AM except on Sundays and Holidays at 12:00 PM. Early and late extensions are often available for a fee. Please check with office for availability.
3. All campfires must have an adult present. Firewood is for sale in the office. PLEASE DO NOT BRING WOOD FROM OUTSIDE YORK COUNTY.
4. Quiet hours are 10:00 PM to 8:00 AM. Office hours are 9:00 AM to 8:00 PM. NO RUNNING GENERATORS IN THE PARK – NO EXCEPTIONS.
5. If campers receive overnight guests at the campground, there is a $3.00 fee per person per day. (Children under 12 are free.) Parking for additional vehicles is limited and must be parked in designated area. Please stop at office so we know what site your vehicle is with.
6. If your children, pets or yourself damage campground property you will be charged a fee for the damages – this includes all boats, toys, restrooms, campground grounds including electrical poles, lights and the cabin.
7. It is OK to WASH your WINDSHIELD and bugs off the front of your RIG, but PLEASE do not wash the entire RIG. Campground Secured by Night Owl Security System.
8. IF OTHER CAMPERS COMPLAIN ABOUT YOU OR ANY MEMBER OF YOUR CAMPING GROUP, AND THE ISSUE CAN NOT BE RESOLVED. YOU MAY BE ASKED TO LEAVE BY MANAGEMENT AND WILL NOT RECEIVE A REFUND.
9. Restrooms: No hair color in the restrooms. Please be kind to the restrooms. We have worked hard to make them nice for you. Parents must accompany children at all times (including in the restrooms.)
10. Please do not allow your children to play on or around the storm shelter. Thank you for your understanding.
11. Dump Station is for REGISTERED PAYING CAMPERS ONLY.
12. SPEED LIMIT IN PARK IS 10 MPH. Please do not park on grassy areas. NO CARPETS.
Water Advisory: Due to our close proximity to farmland, our water has slightly elevated nitrate levels. It is advised that infants six months of age or less or pregnant or nursing mothers not drink the tap water. We have two reverse-osmosis drinking water filling stations for your convenience. The first is located on the outside of the main building by the office and can be accessed at all times. The second is located inside the main office and can be accessed during normal business hours.
---